Wings like Eagles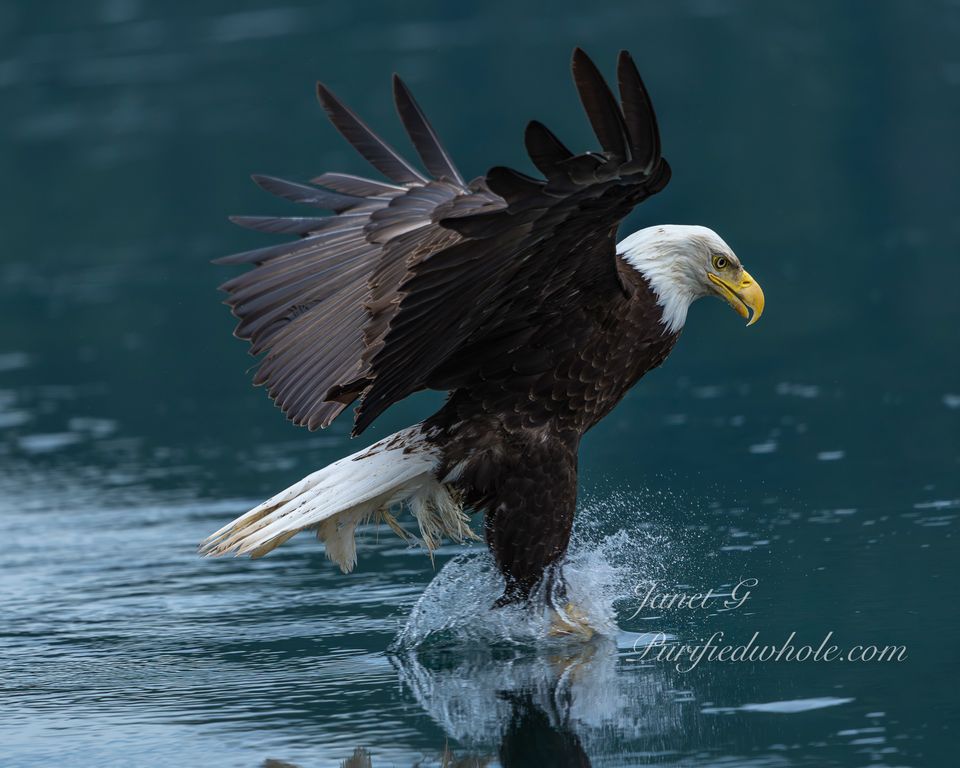 The Bald Eagle is recognized as the national symbol of the United States. It represents strength, courage, longevity, and most of all, freedom.  There are several types of eagles throughout the world, but the bald eagle is indigenous to North America.  Unlike their name, the bald eagle is not actually bald; at birth all their feathers are mostly dark brown with some speckled brown and white and as they develop their head and tail feathers turn snowy white by five years of age (I am glad it takes a little longer for our head to turn white).  You may have heard the term "eagle eye" as referring to someone with sharp eyesight.  Even though the bald eagle's eye is similar in size to that of a human eye, they are estimated to have four to eight times stronger eyesight than that of a human.  Due to the angle of their eye socket they have the ability for both peripheral and binocular vision, giving them a "340-degree visual field."   This highly developed sense of sight allows them to easily spot prey an impressive two miles away, even in flight.  While the bald eagle cannot reach the exceptional speeds of the peregrine falcon, perched high on the top of a tree, they have been known to dive at the remarkable speed of 75-100mph, a sight which takes my breath away!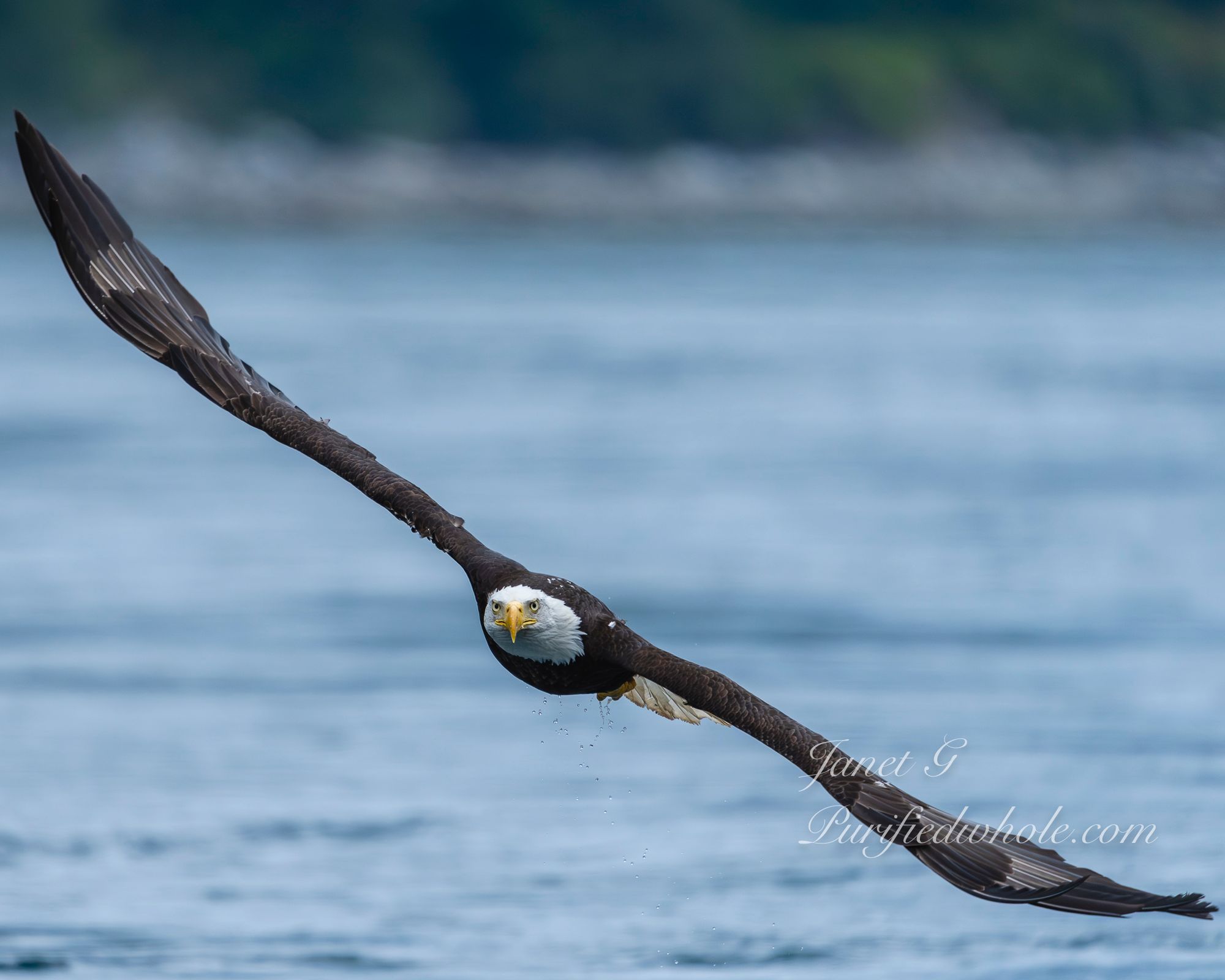 Most of us have seen pictures of this awe inspiring raptor and some of us have seen one or two bald eagles from afar…oh wait, look to the right, look to the left, look up, look out in front of you…eagles are all around…over two hundred bald eagles! Let the adventure begin and the God story shared…
…They will soar high on wings like eagles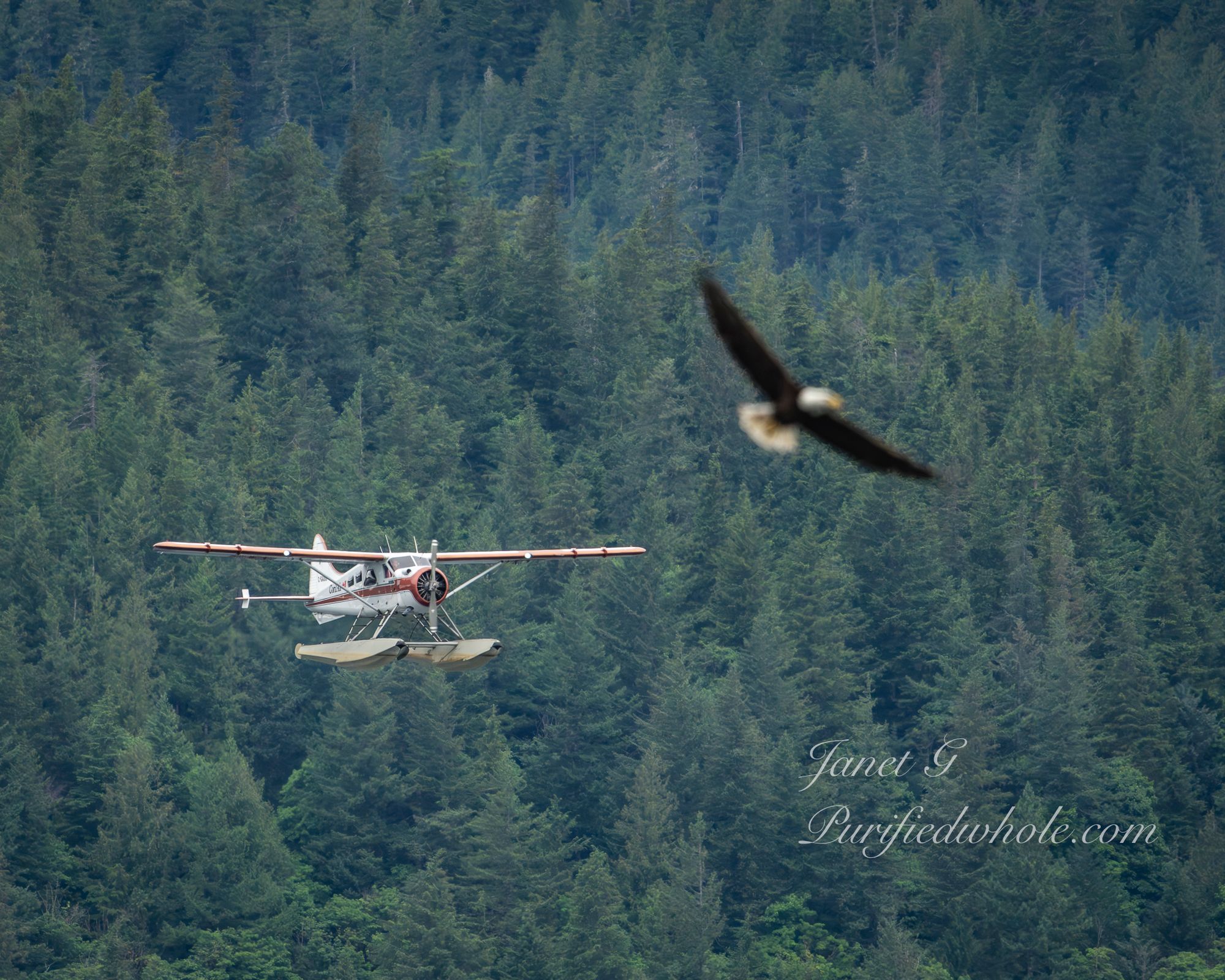 This float plane is not as majestic as real eagle wings, but it safely brought us to a remote island off the west coast of Canada.  The panoramic view revealed mountain islands rising up out of the water, with the higher peaks still spotted with remnants of the winter snow.  The mountains are covered with trees the shade of emeralds and in the deep lush green of the old-growth forest, nestled deep under cover, resides a variety of  wildlife that is revealed only by their own choosing.   At a certain time of the year a swift high tide races through this channel of islands, sweeping the ocean floor, capturing unsuspecting fish and aggressively catapulting them to the water's surface, creating an irresistible feast for the incoming bald eagles.
The timing of my adventure took place around the 4th of July, a day in which we commemorate the birth of our nation.  Like any birth, it has not been without its labor pains, but through it all we are extended the opportunity to celebrate our great freedom.  In spite of that fact, all too often this treasure of freedom is under appreciated, being encircled and clouded by the challenging and sometimes grueling circumstances of life.  However, as a by-product of my continual desire to learn from life's lessons, I have discovered that the skill needed to navigate life's most difficult circumstances has been accomplished through genuine study of the many circumstances that brought me to this point in my own journey.  I recently read an article in which "circumstances" where defined as "those nasty things you see when you get your eyes off of God."   The article further goes on to explain that "If you look at God through your circumstances, He will seem small and very far away, but if by faith you look at your circumstances through God, He will draw very near and reveal His greatness to you."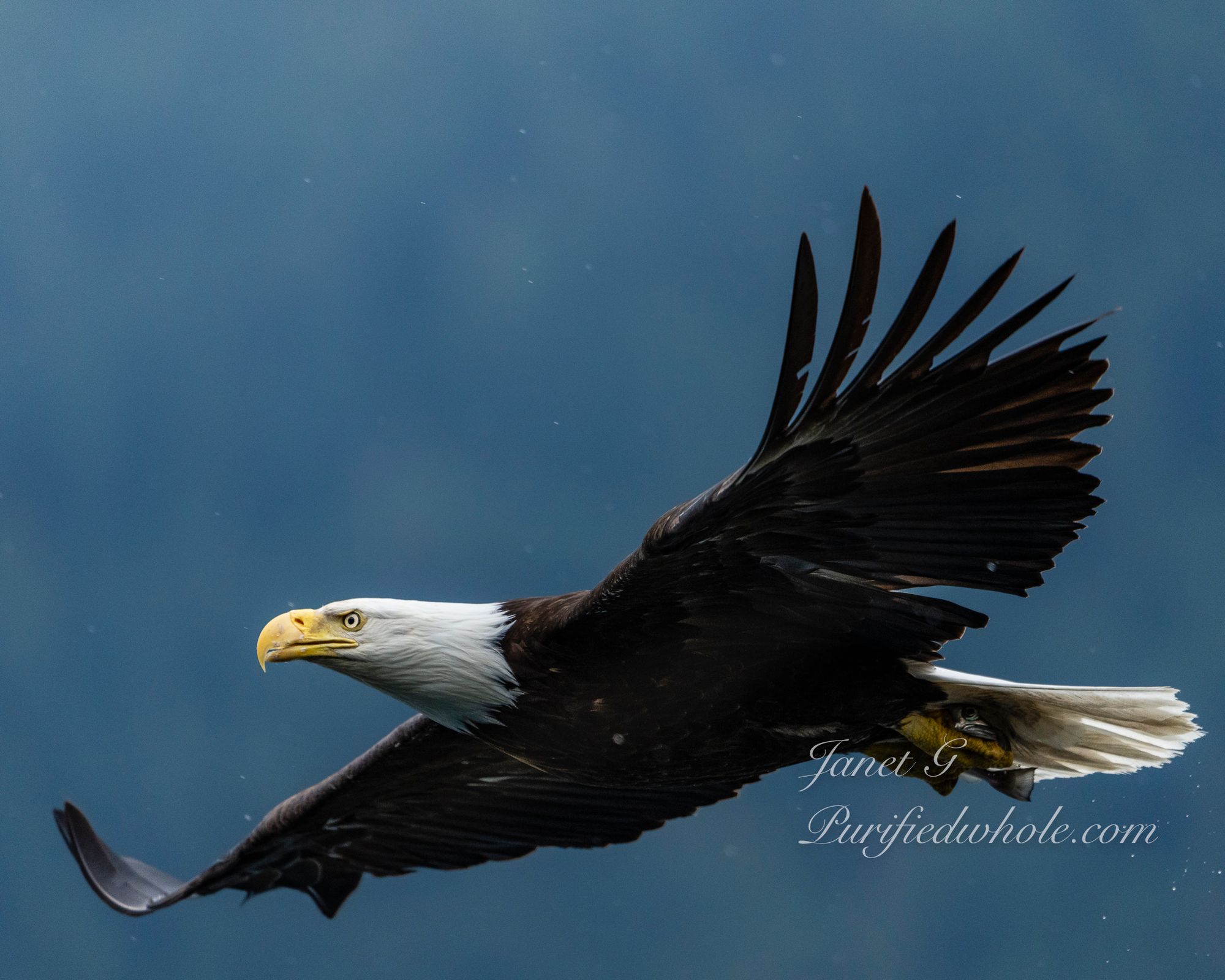 In genuine introspection, I can honestly say there have been far too many times when I only looked at God through my circumstances, and as a result, I have bought into the common thought that "God didn't see or care for me." Have you ever been swallowed up with those same thoughts?  Moreover, through this purposeful review, I have come to a place on the path of life where I can now understand both the gift and the power of hindsight.  For me, hindsight has enabled a birds eye view, giving me the ability to see a bigger picture than I can see when I am in the midst of the circumstance.  Similarly, in photography, like hindsight, I can zoom in to see details undisclosed to the natural eye.  Although as you zoom in, I want to caution you, be careful not to look at the details of your life through someone else's lens.  I am always dismayed at how many people will allow others to define their identity based on circumstances in life and if you listen to them long enough (instead of looking yourself), you may choose to believe the wrong assessment of who you really are and who you can become.  When I ponder the details of my life, contrary to the impression that God does not care, I have been able to find God's fingerprints all over my circumstances, reassuring me that I was never truly alone.   Instead, upon reviewing the fine details, I am astonished how many times I was protected from the numerous unrecognized dangers aimed at destroying me in one form or another.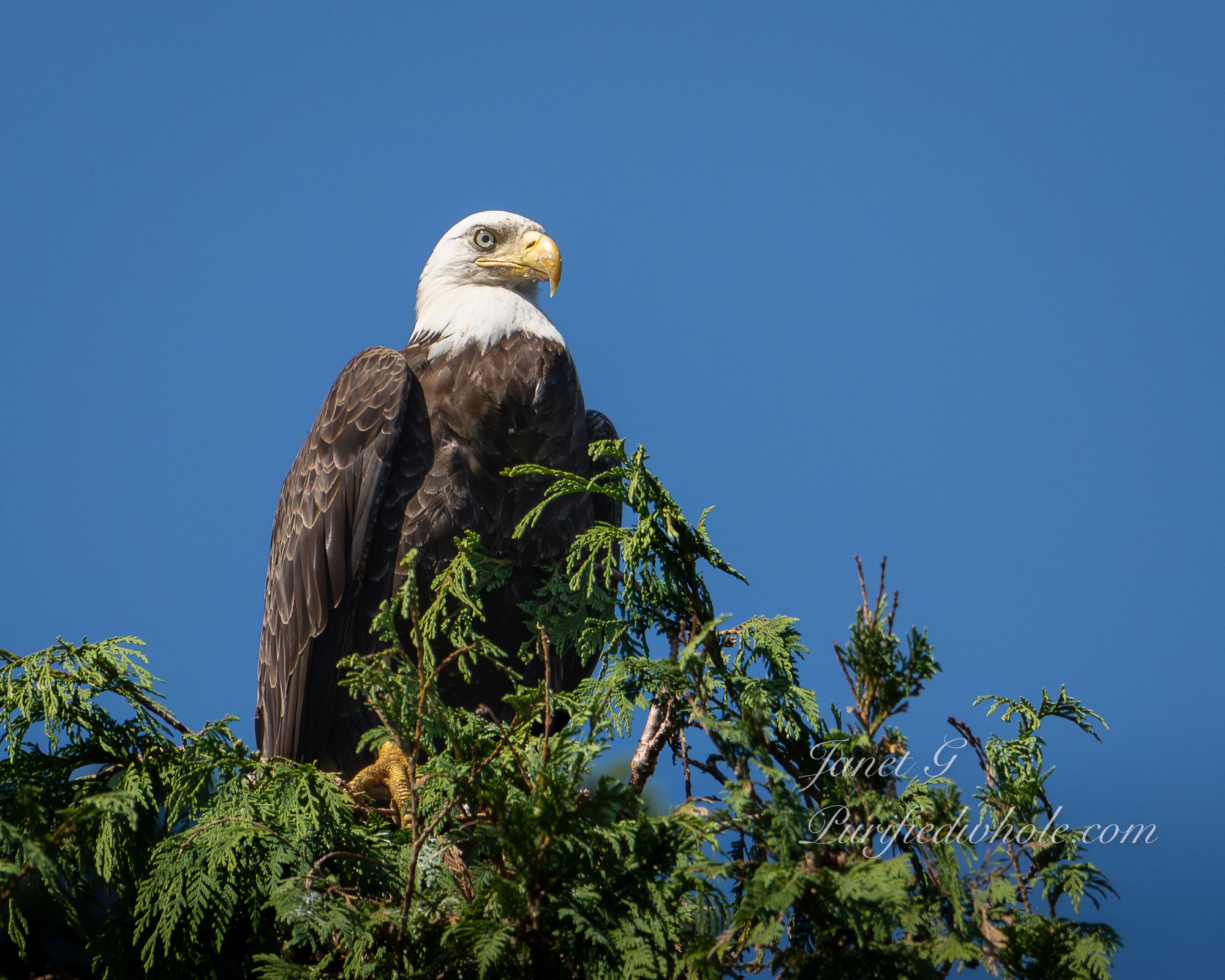 But in my distress I cried out to the Lord; yes, I prayed to my God for help. He heard me from his sanctuary; my cry to Him reached His ears. Psalm 18
In researching the bald eagle, as well as other wildlife, I have found that they live much longer in captivity as opposed to their natural habitat, but that extended life comes at the great cost of their freedom.  Yes, it is true their basic needs are met. They are fed, provided with a place to live and they even have health care, yet they are no longer able to soar to great heights or experience seeing a rabbit running free two miles away.  Instead of the eagles living to their full potential, this captivity has become a mere existence.
The same can be true for us in our quest for relief from a difficult circumstance…we are tempted to exchange our freedom for the quick fix.  Looking to trust someone else to provide for our needs, exposing us to the danger of not knowing who is truly trustworthy.  We can choose to trust only ourselves, but personally I have not always had the best judgement, along with the uncomfortable consequences to bear that out.  Add to that, the ever-growing trail of broken hearts and shattered lives of those who fatefully chose to trust the wrong person.  So, what can we do, in whom can we trust?
We can choose to trust God!
But those who trust in the Lord will find new strength.
   They will soar high on wings like eagles.
They will run and not grow weary.
   They will walk and not faint. Isaiah 40
What is it about trusting God that makes us want to rebel?  Do we really know what it means to trust, or do we have a distorted view of what trust should be? Trust is a choice; it cannot be forced.  "Trust is defined as an assured reliance on the character, ability, strength, or truth of someone or something, one in which confidence is placed, dependence on something future leading to HOPE!"  Not only do we have the words of God written down for us, but when we look closely, nature reveals the character, ability, strength, and truth of God, in contrast with the brokenness and cruelty of this world.  God has revealed so much about Himself, giving us the opportunity to comprehend Him as well as He understands us.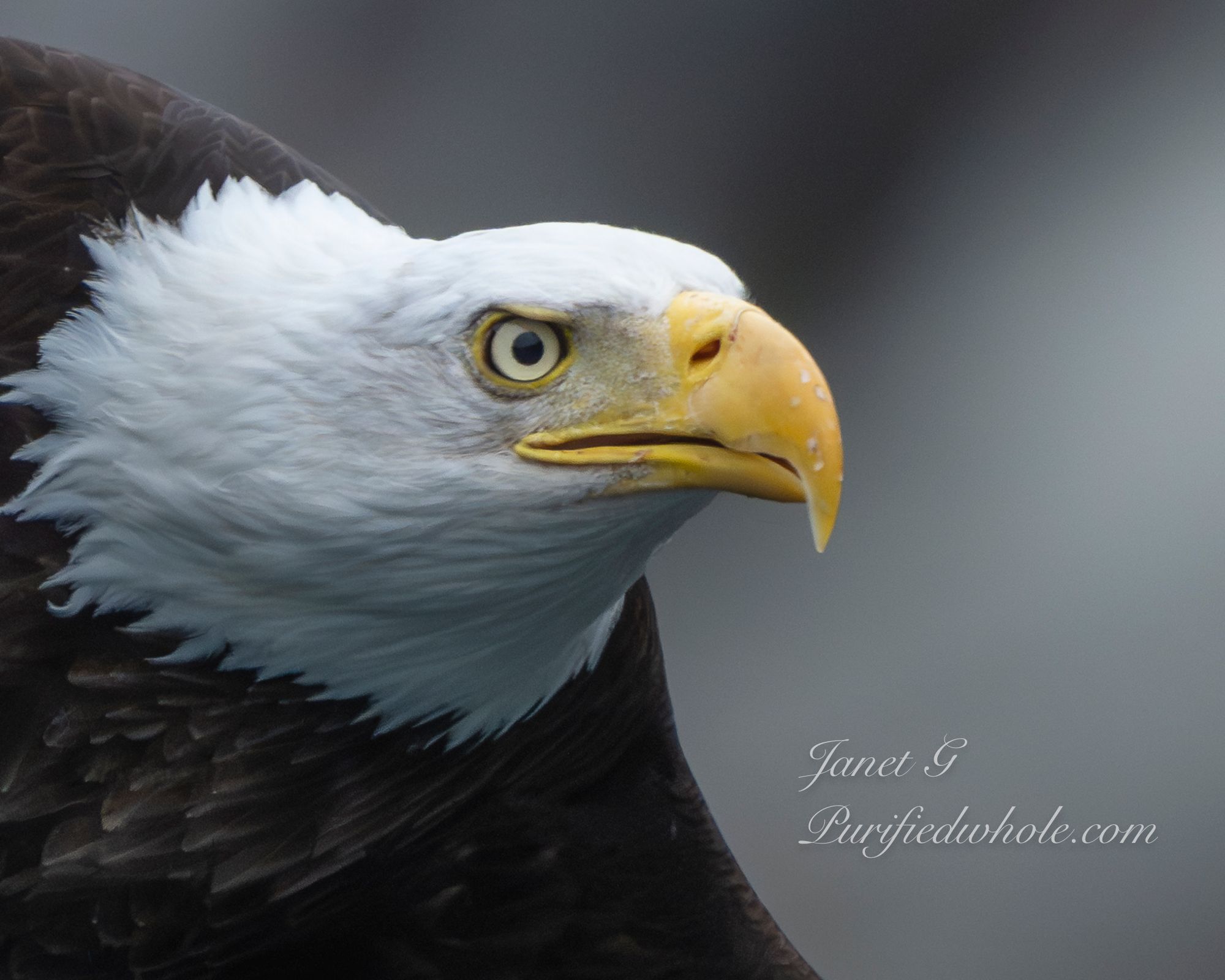 O Lord, you have examined my heart and know everything about me…How precious are your thoughts about me, O God. They cannot be numbered! I can't even count them; they outnumber the grains of sand! And when I wake up, you are still with me! Psalm 139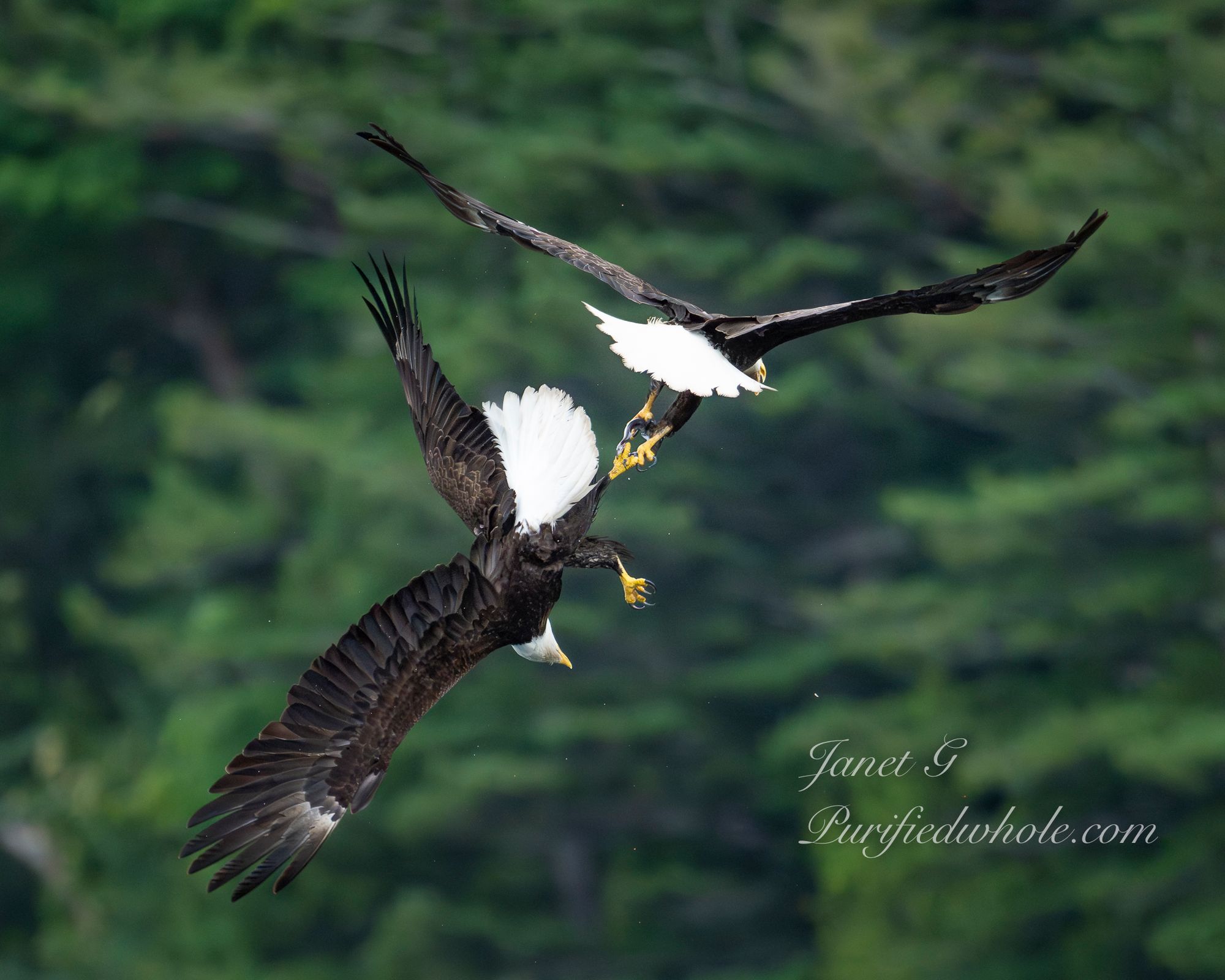 I have found the most difficult part of life's journey is not the external situations, but it is our own internal attitudes that can betray us.  The way in which we view the challenges of life has a direct correlation to the choices we make.  Life's circumstances come and go, and as such they can become a point of contention, cultivating behavior which is illustrated through complaining, dissatisfaction, even lashing out at others.  Too often in the midst of the frenzy with everyone racing in different directions at the same time, we can be confounded by the obstacles and bewildered by the growing darkness that seems to surrounds us, driving us to believe our only option is to isolate ourself…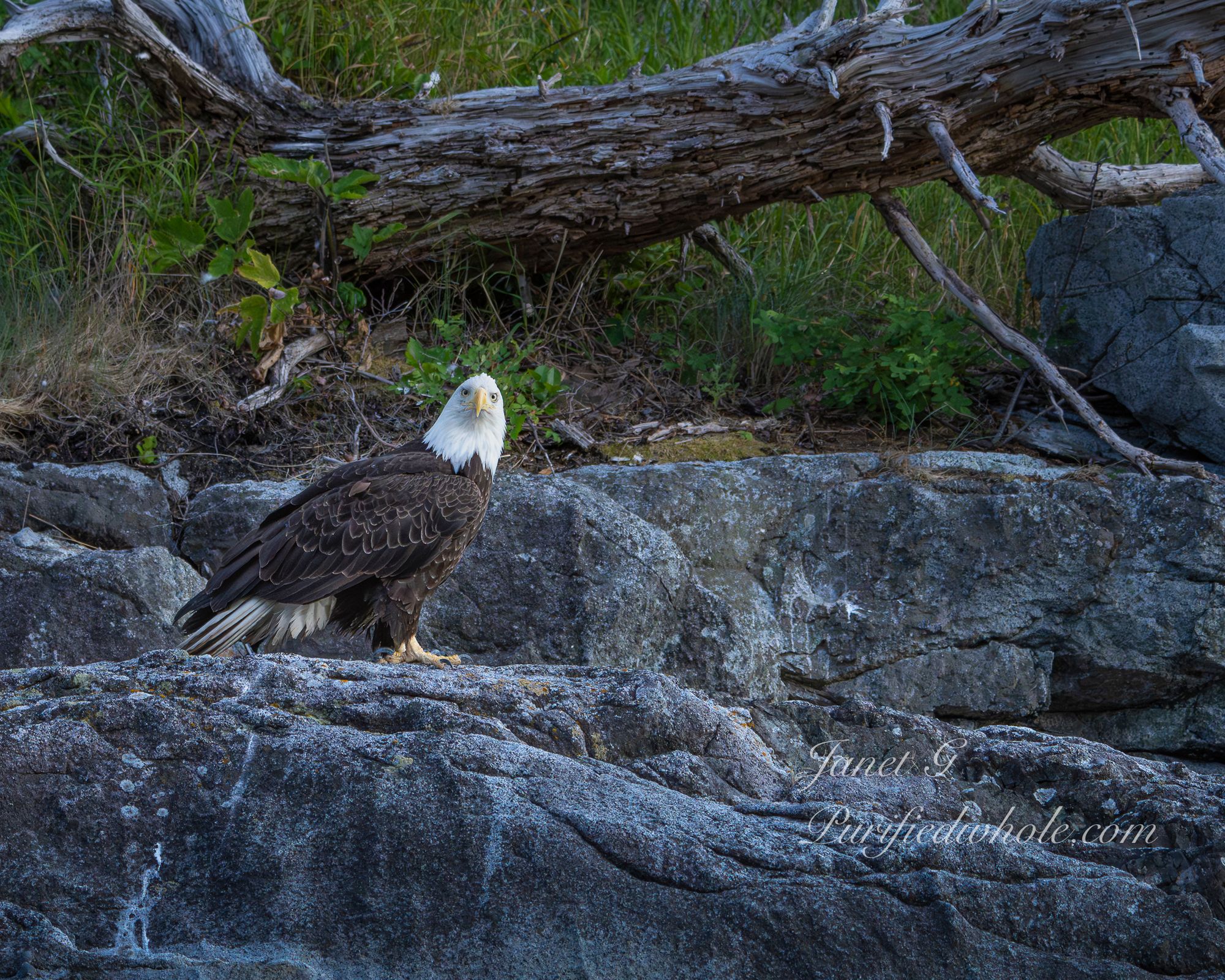 Nevertheless, these same circumstances, although difficult can become an open door, challenging us to push forward, to continue the journey, learning to trust the only One who can regenerate us from the inside out.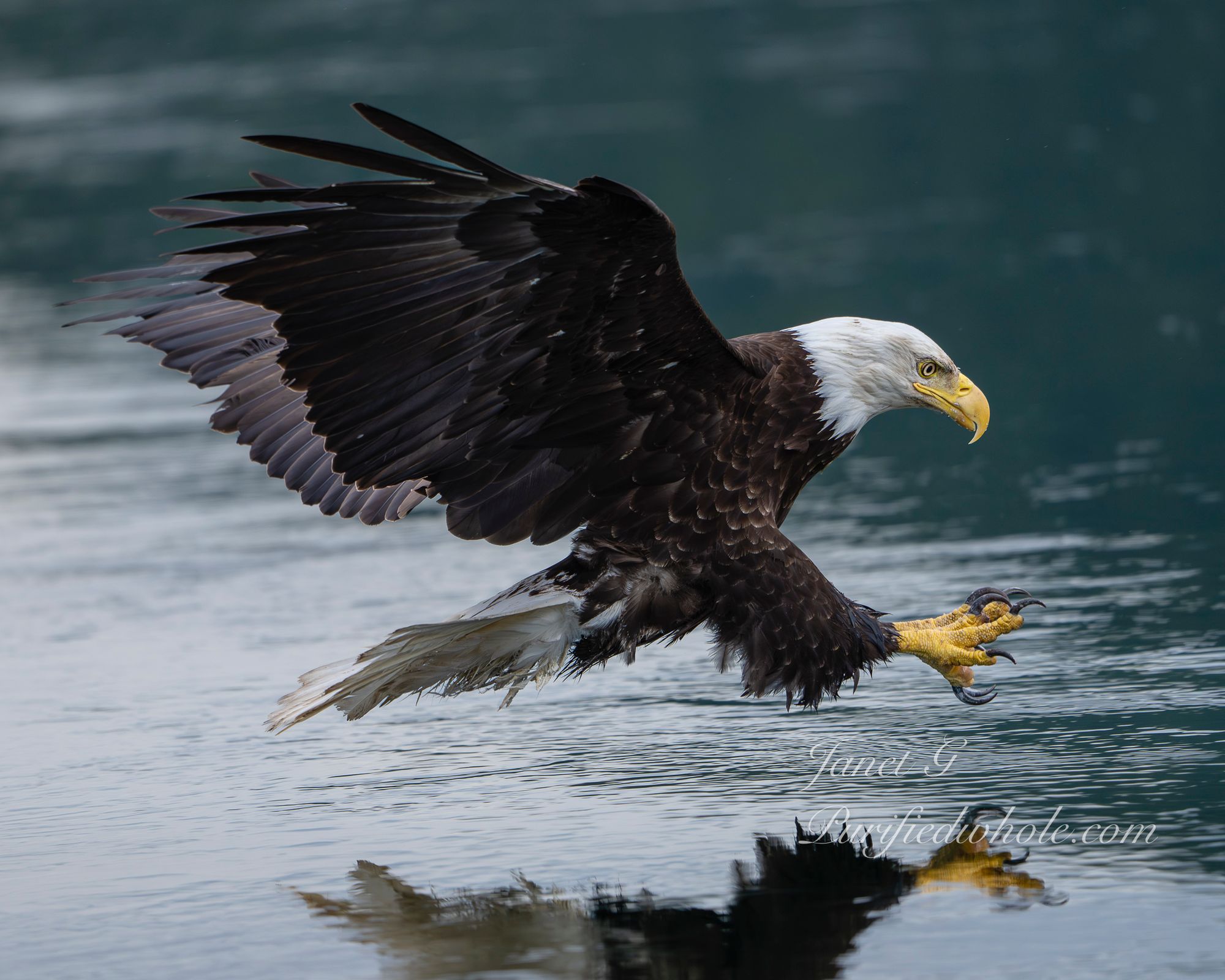 In truth you can allow God to exchange your weakness for His strength, His supernatural empowerment.  Upon reflection, we will discover that God does not change our circumstances; alternatively, God will use these circumstances to transform us. Recognize that whatever we choose will have the potential to become a pattern for life, altering the day to day and moment by moments of this journey we are on.  The crisis and tragedies of life can bring us to the end of our own capability and resilience, even humbling us to our knees; but that is when the God Who sees and hears can enable us to soar above our heartbreaks, run with endurance in the face of the many challenges, and empower us to walk faithfully in the everyday demands of life.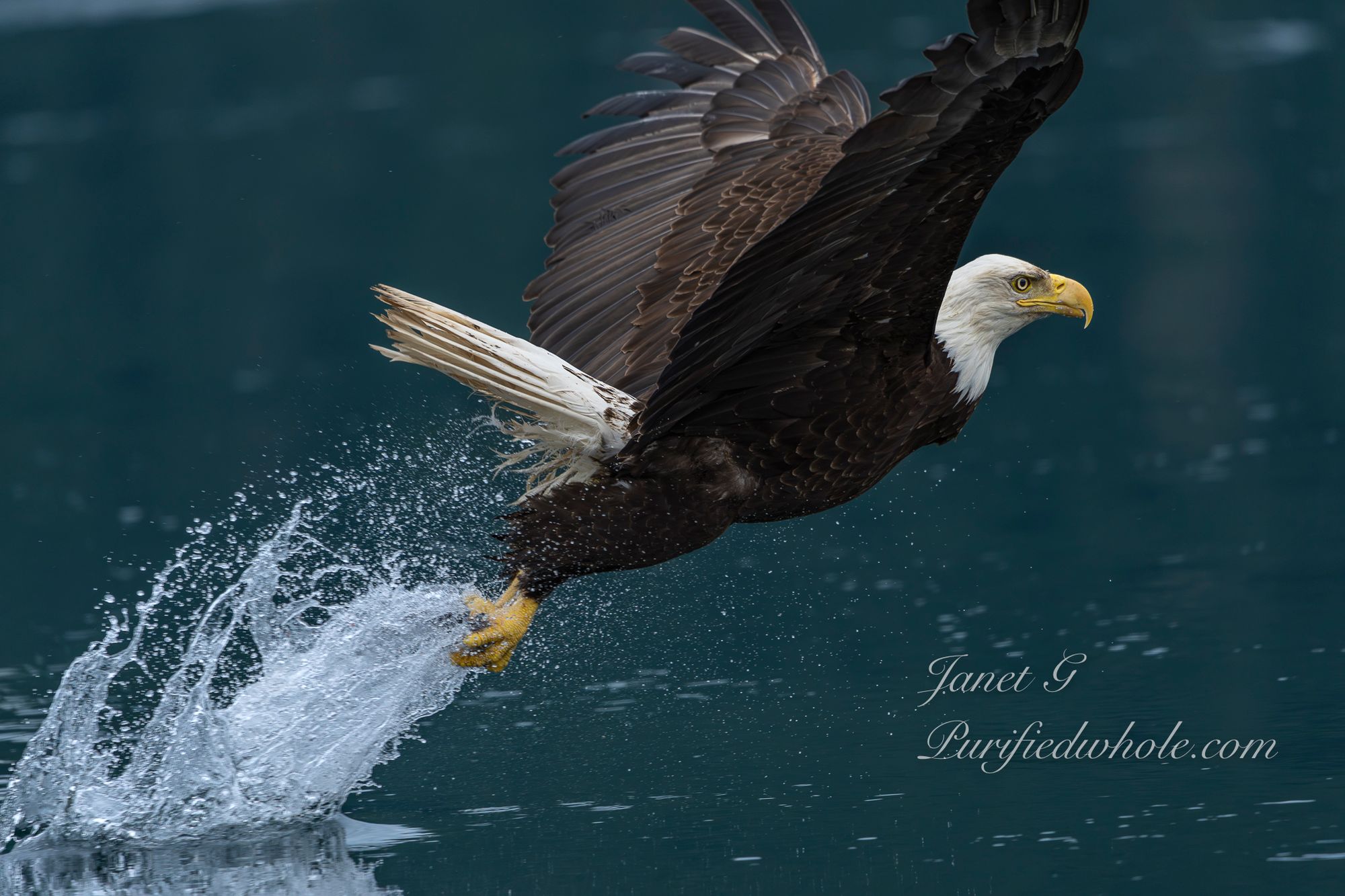 Choose wisely, stretch out your wings… now SOAR!
For although, "Weeping may last through the night…joy comes with the morning." Psalm 30