Joyfully Simple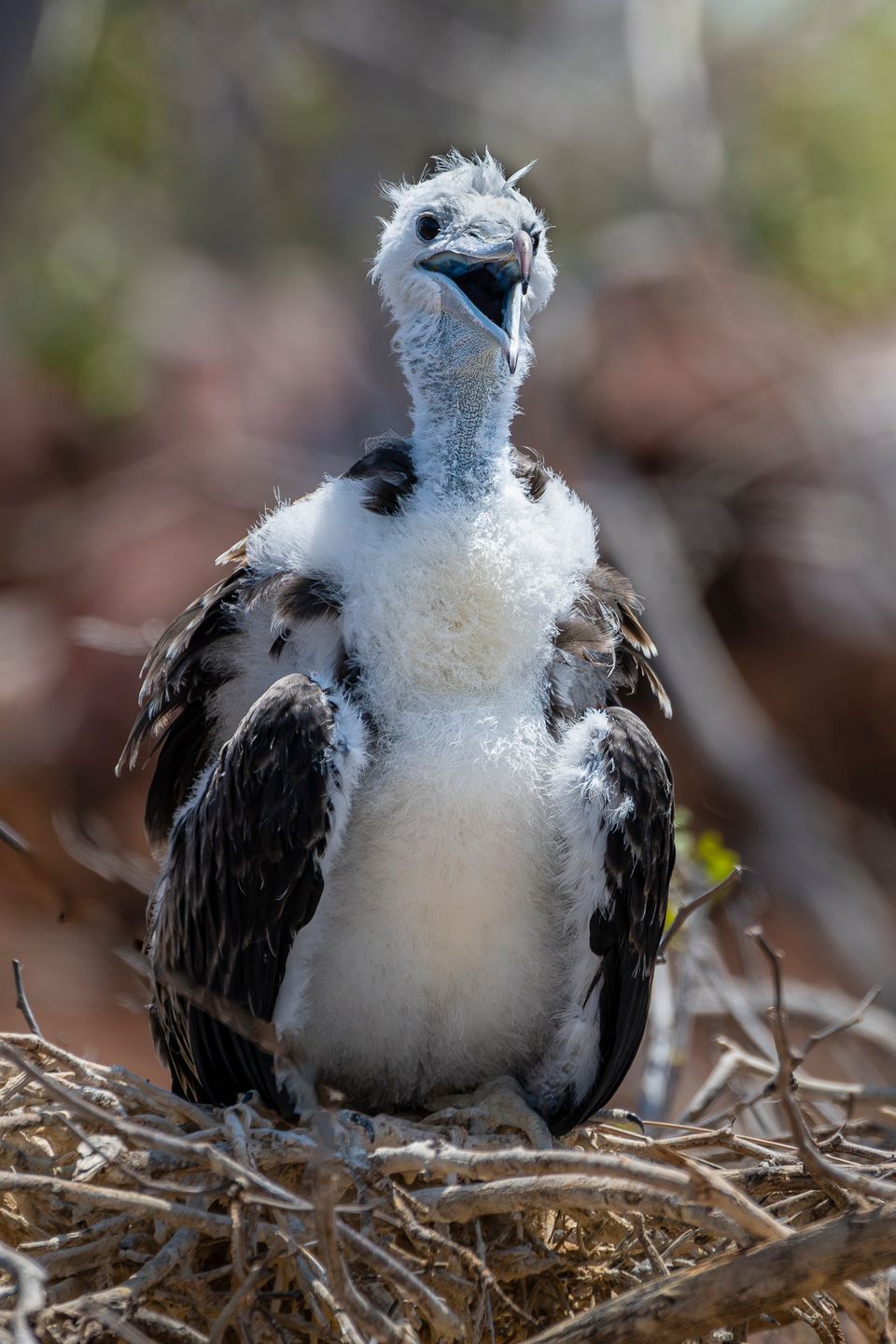 A joyful heart makes a cheerful face, But when the heart is sad, the spirit is broken.  Proverbs 15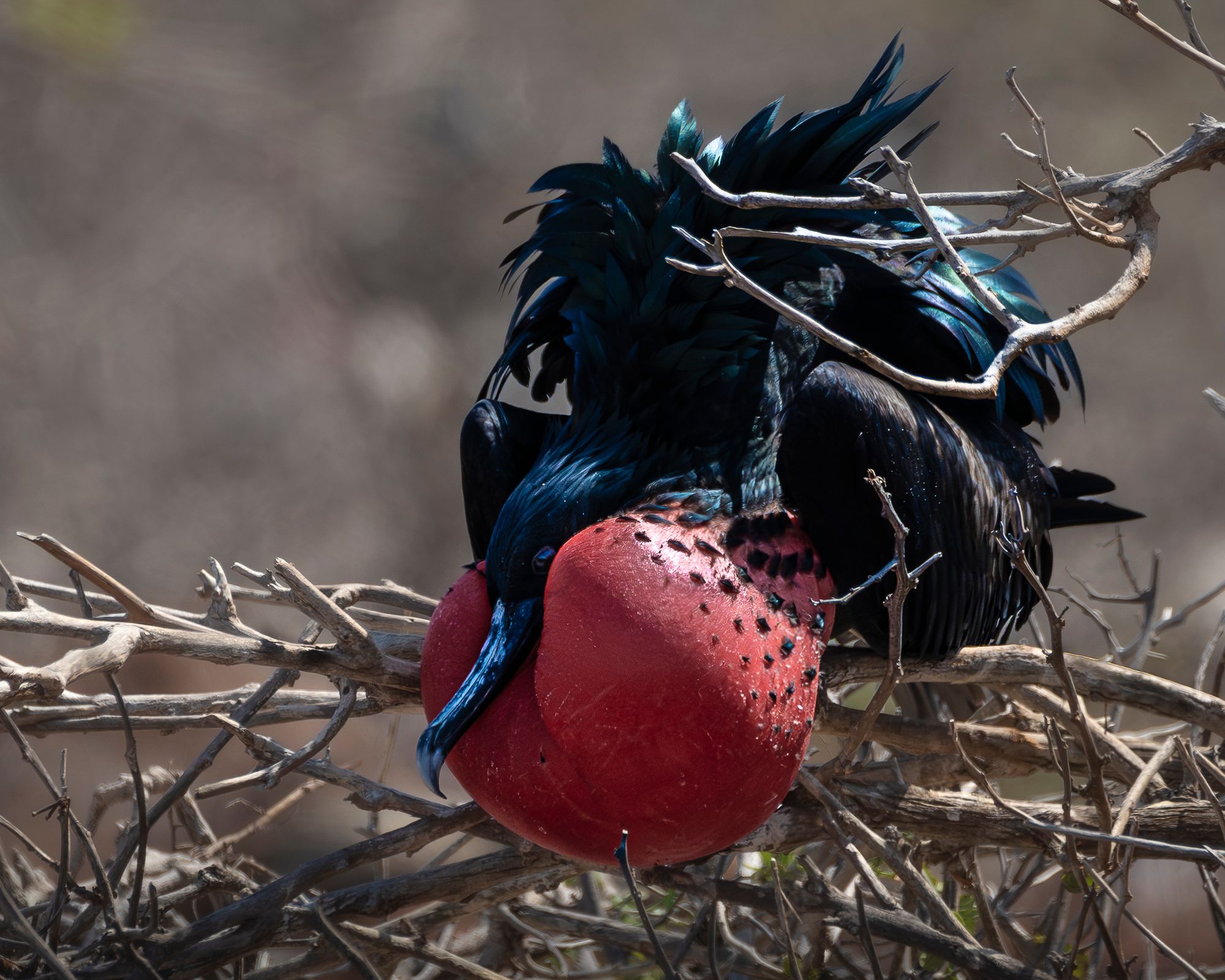 Have you noticed, even with all the marvelous advances in technology, not only is the world racing by with intensified speed but it remains challenging for most of us to find joy in the simple things of daily life?  Throughout the ages there has repeatedly been times of difficulty both on a personal and global level.  However, through-it-all the "Pioneer" attitude persisted.  This attitude consists of the thrill of adventure and the joy of discovery.  Noticeably, also reflected in this attitude, is the willingness to rise, to pull up the boot straps and come what may, to purposefully overcome any form of adversity. Although lately, I have observed and maybe you have witnessed it too, something has changed.  It is as though our society has become obsessed with fear at an alarming rate.  In turn, this fear has led to isolation, followed by depression along with despair. Consequently, this fear has added to the expanding number of suicides.  Others are seduced to escape to the realm of a "virtual reality" which is not reality at all.  This downward spiral has left a broken spirit in these broken people.  To breakout of this trend, I am once again drawn to the great outdoors in search of another God story from His creation that would lead me to the path of infectious joy.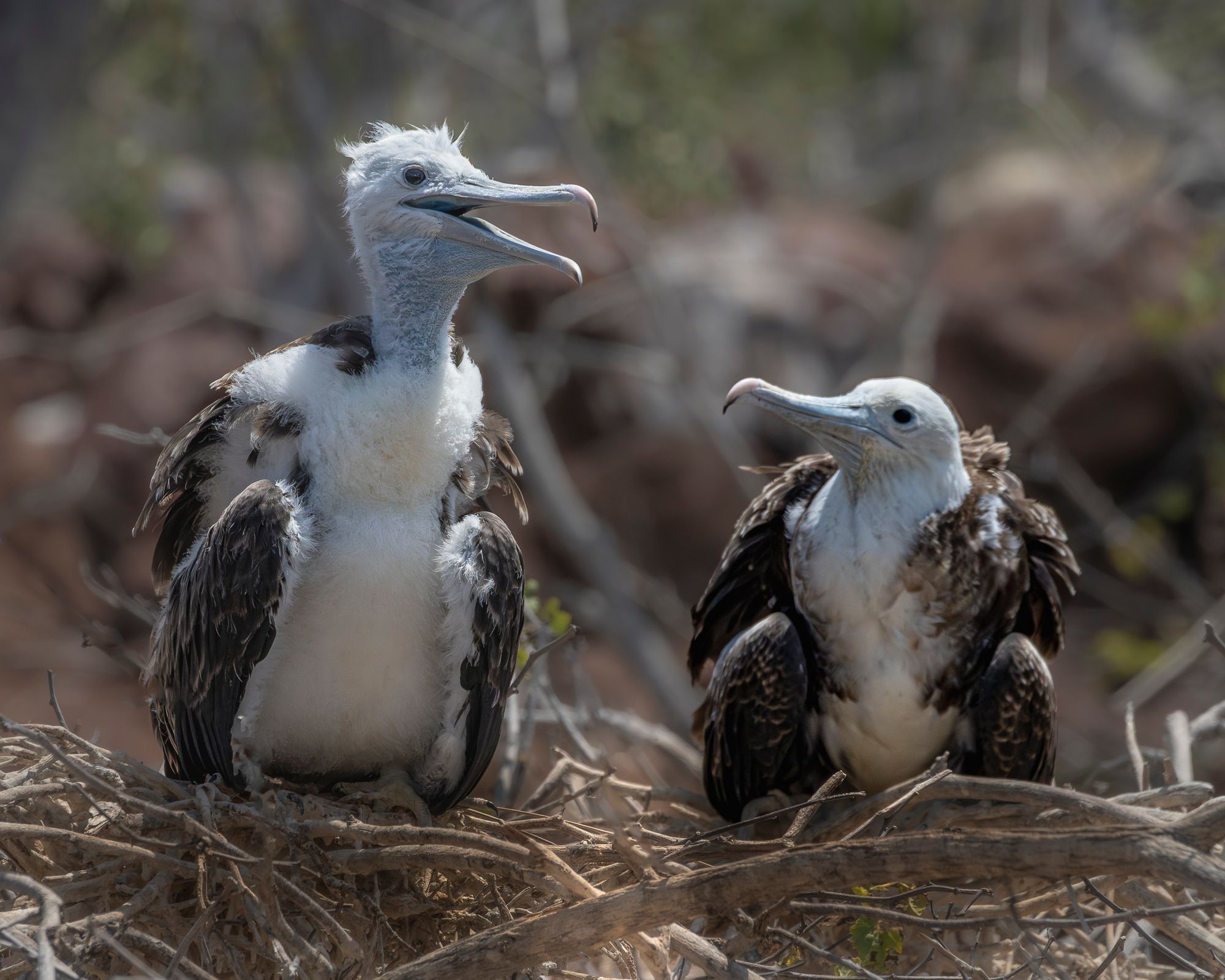 Joyful is the person who finds wisdom, the one who gains understanding. Proverbs 3
Now, common sense dictates that contagious joy like anything that is transmissible, must have a point of origin.  Which leads me to ask the question; what does nature know  about joy that I don't know?  To learn the answer, I find myself in pursuit of a treasure still awaiting to be discovered.  As I surveyed my photos, I was left with a sense of wonder.  It appears as though all of creation is participating in a secret and I have been entrusted with the unearthing of God's revelation.  I found that this joy is continuously being lived out daily, right in front of us.  The treasure or perhaps the the "blessing" is not a secret at all.  The explanation is so simple, and at the same time it is so profound.  All of creation is declaring something or should I say someone greater than itself.  From the buzzing of a bee, to the songs of the birds, to the roar of the lion, oh yes, and to the melody of the humpback whale — nature is pointing not to the creation but to the CREATOR Himself.  God is the point of origin.  Look around and behold!  His creation has embraced life so heartily that it overflows with a beautiful joyful noise.  Pastor Adrian Rogers said "Wisdom is the ability to see life from God's point of view."   Could my lack of joy be the result of only viewing life from the perspective of a mere mortal?  Hmmm, I believe it is time to get a new vantage point.
You [God] will show me the path of life; In Your presence is fullness of joy; In Your right hand there are pleasures forevermore. Psalms 16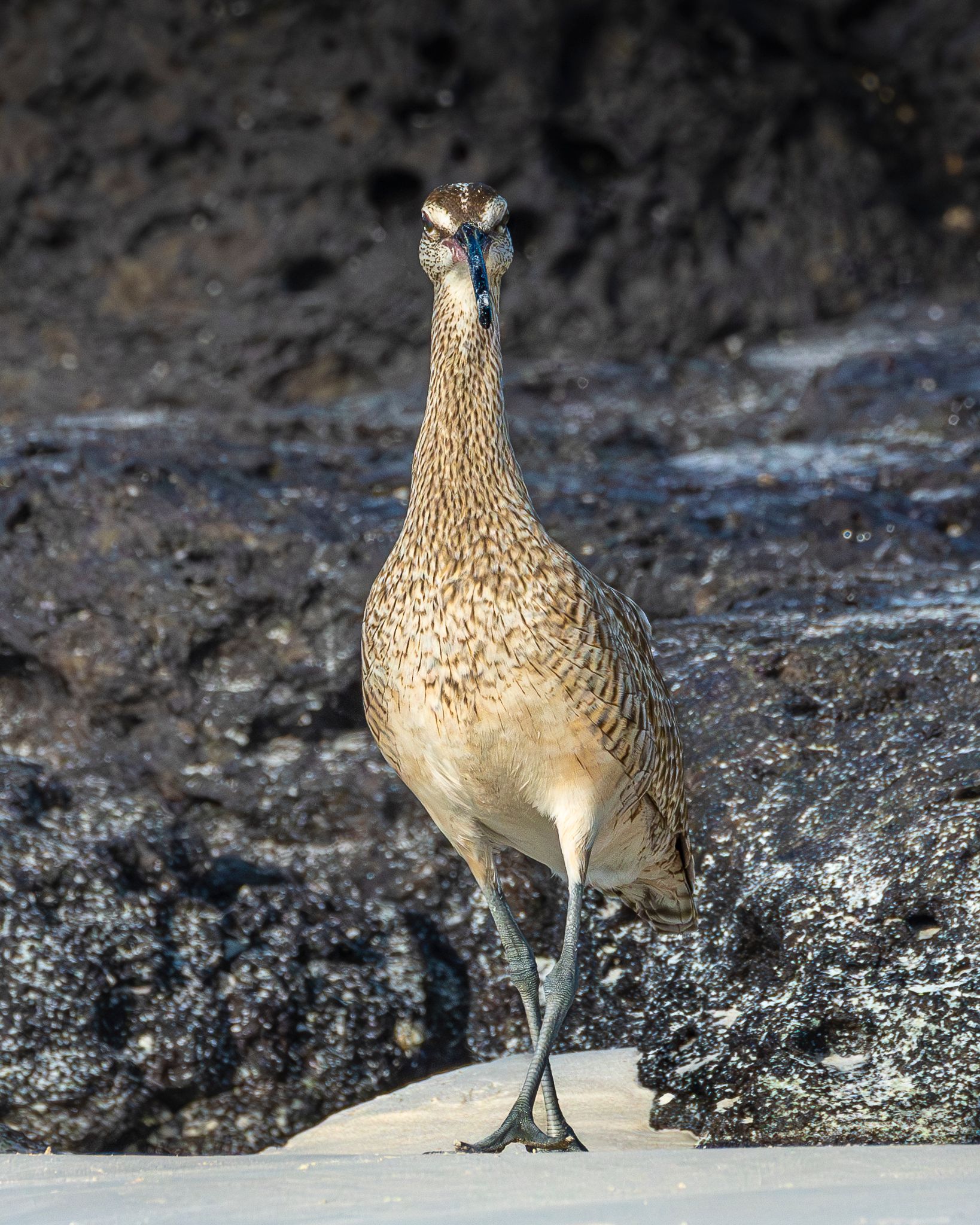 To clarify, joy and happiness are different.  Happiness comes and goes.  It is an emotion which is dependent on the immediate circumstances or happenings around us.  As quickly as circumstances can change, happiness can be just as fleeting.  On the other hand, joy is a deep sense of well-being.  This well-being is accompanied by a true form of contentment, which is independent of circumstances.  I realize that experiencing this kind of joy is easier said than done.  A joyful lifestyle is the result of an active choice of our will.  Truthfully, this choice is something that needs to be practiced on a daily bases, in good times and bad.  Furthermore, I understand that this choice is not effortless.  And there will be times when it may appear impossible, but actually we have never been asked to make this choice alone.  As expressed in creation, God desires to lead us into His presence so we too can energetically grasp this undiluted joy.  As a by-product, our expression will become a reflection of His great pleasure and delight.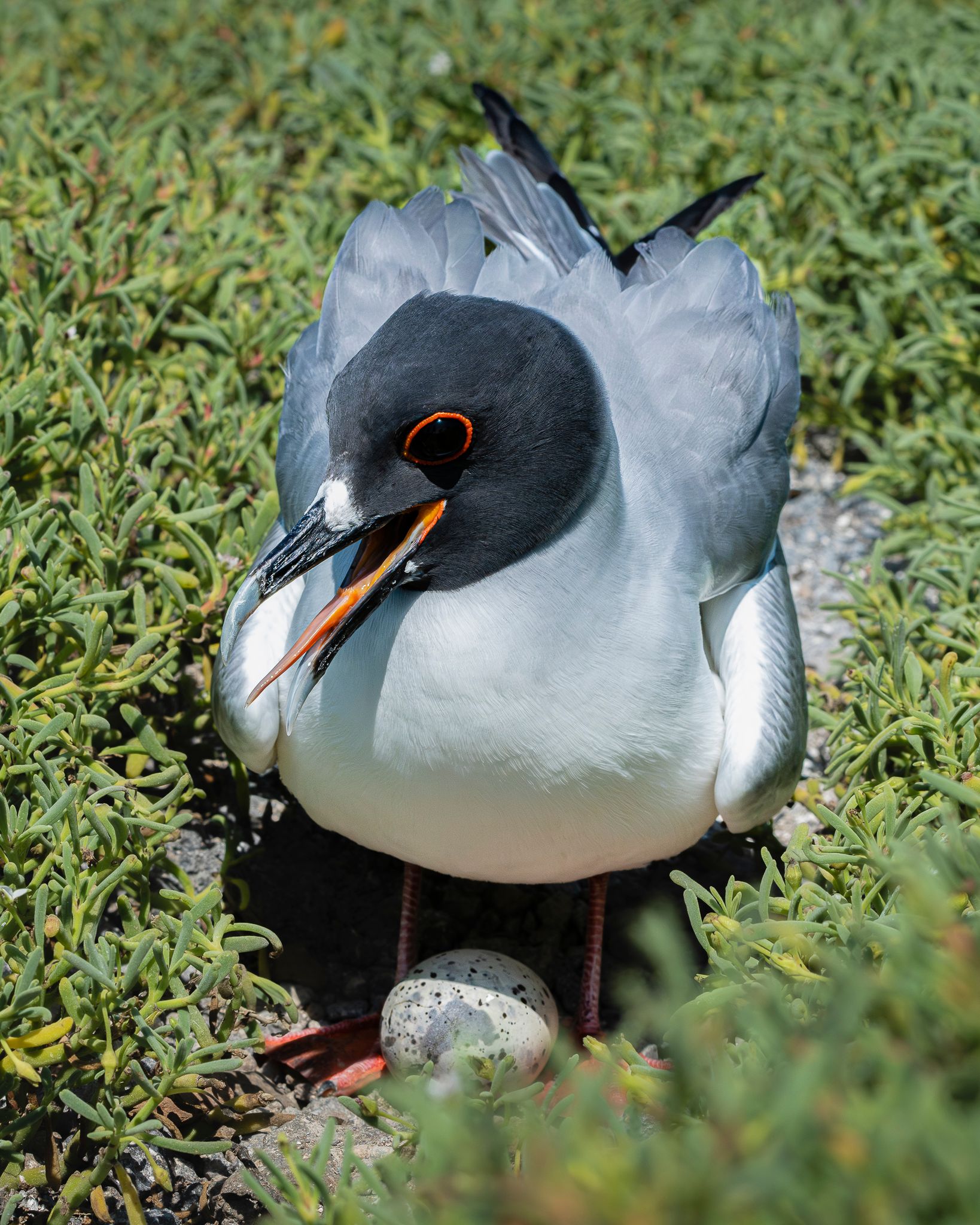 There is something about this fullness of joy that can not be inhibited and each of these pictures are able to narrates its own story.  As depicted above, there is no truer joy than the look of a proud mama's face.  This Swallow-tailed Gull with her little button eyes willingly shared with me her hidden treasure.  Being a mom or dad involves work, sacrifice and a depth of love that often words can not express, but the face exposes the heart of her joy.  In her appearance you can see that there was no regret of the past or the fret of the future.  Instead there is only a present joy in this gift of life that God has set before her.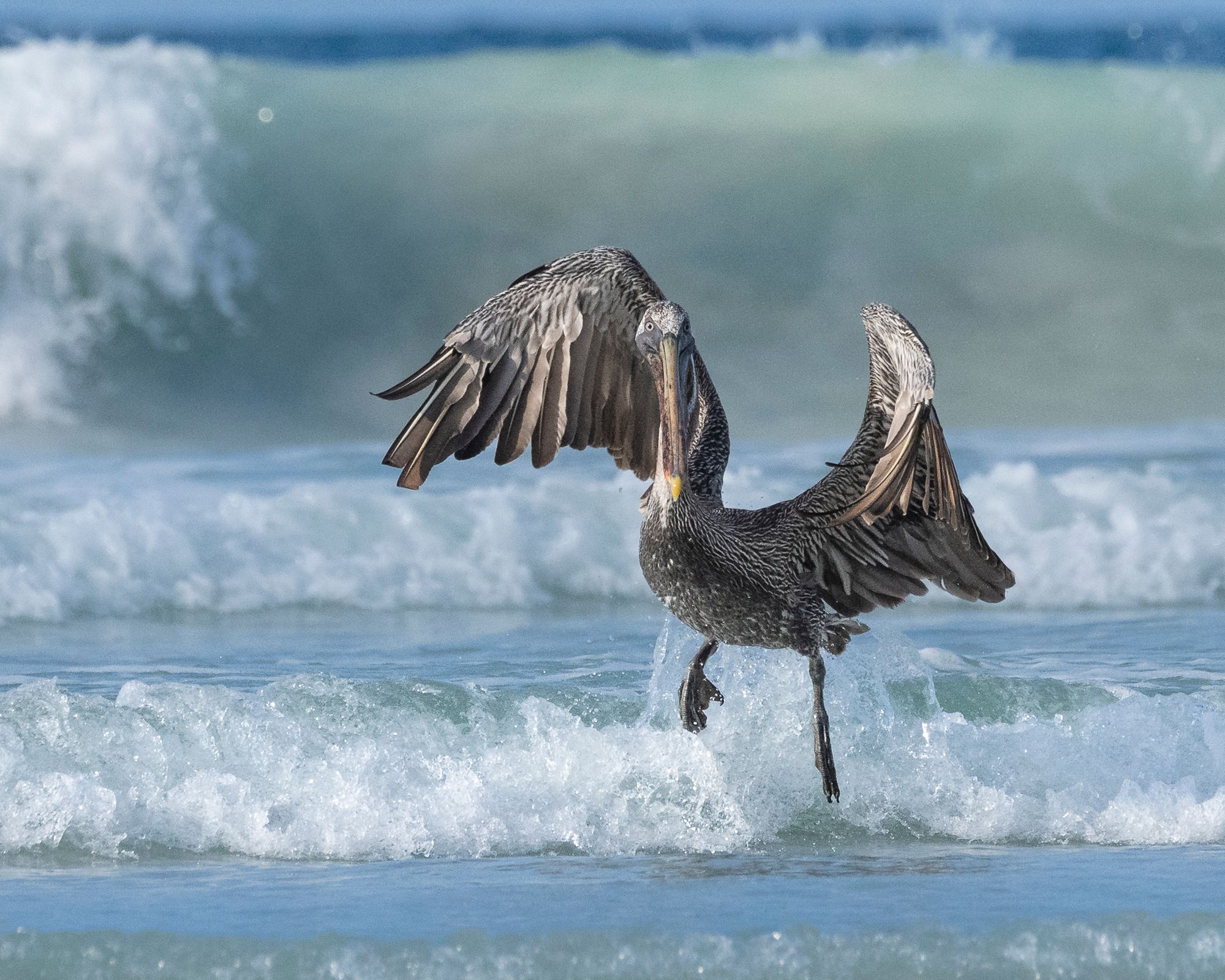 Surfs up!  Notice this pelican.  Fully aware I was taking his picture.  He does not care how goofy he looks as he is laughing and dancing in the water before God.  There is no striving for perfect form before taking flight.  Rather, instead he was flaunting his joy while teasing the surf with his multiple touchdowns in the water.  Each time looking goofier than the last.  He was enjoying this moment before getting down to the business of finding food, more commonly known as that four letter word, "work."  This pelican willingly demonstrates to us his delight as he enjoys this simple pleasures of life.  As such, he reveals his secret for starting the day in a great way!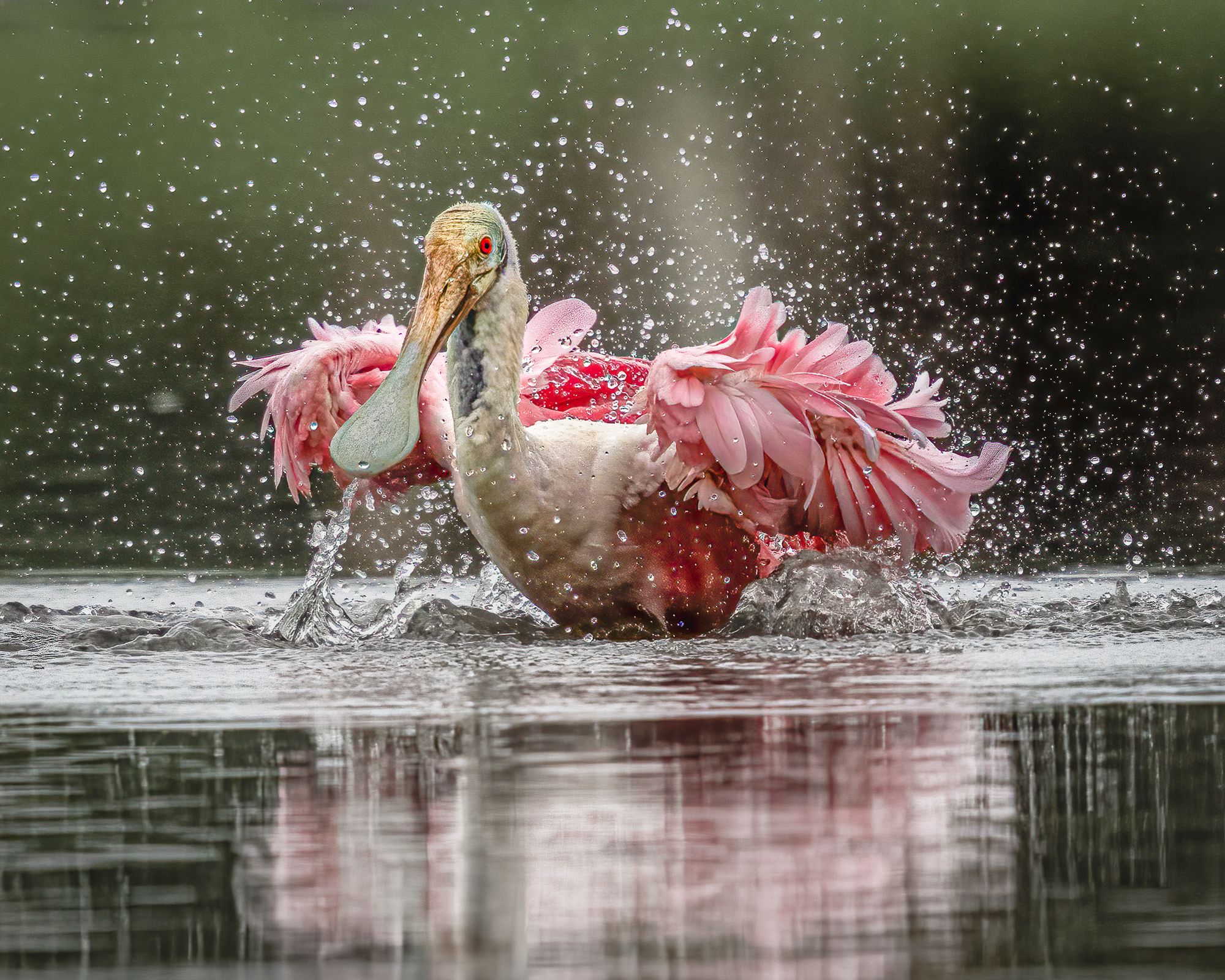 Observe this Roseate Spoonbill.  He is not shy.  Entirely enjoying this moment in his day,  he took this time to stop whatever he was doing for refreshment.  Seizing the opportunity, he delights himself with a bath, swishing and splashing in all directions.  I found myself also relishing this occasion of pure pleasure provided by this spoonbill's performance in the water.  Do you feel that stirring within your heart, that gift of joy God planted deep within each one of us?  God's creation knows how to unreservedly express this joy.
Always be full of joy in the Lord. I say it again—rejoice! Philippians 4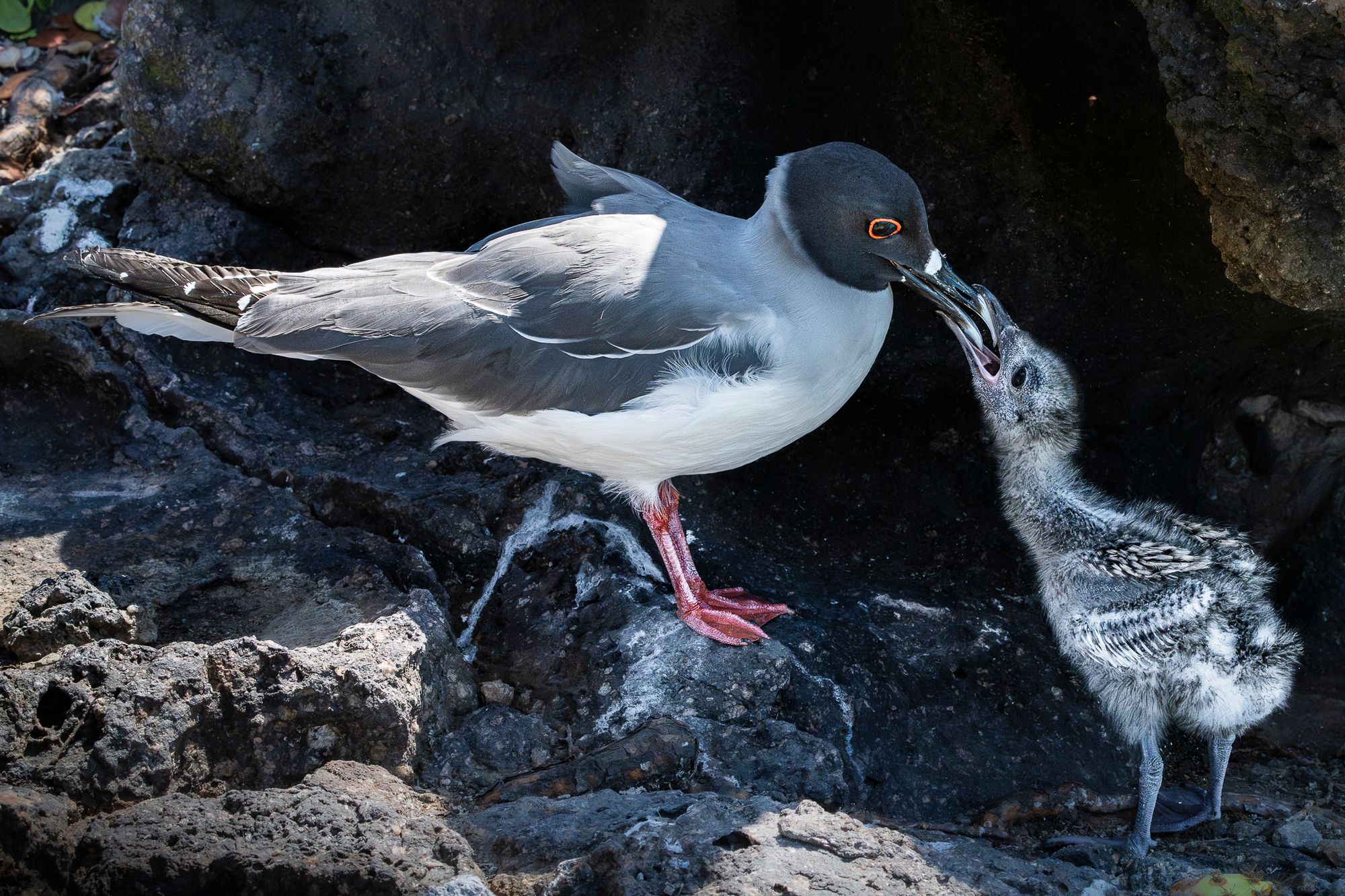 Reflecting on the different activities of these wonderful creatures, it becomes apparent that each one of them is uniquely different.  Despite the differences, in the end ultimately we all have something in common.  Like us, they too have to focus on their individual responsibilities.  They have to provide a home, work for their food, care for others.  However, unlike us, these creatures everyday choose to abundantly live in each moment.  There is still an undefiled beauty and purity in creation that uncovers the heart of their Creator.  As a result, we find them enjoying and experiencing the pleasures of this life, which is revealed in the world God created around them.  Not to say that these creatures big and small do not have their fair share of squabbles, disagreements and even disruptions, but their life is not consumed by those events.  They do not declare their identity based on what has happened to them in the past.  Rather, they freely live life unconditionally, savoring each moment while manifesting their joy in the Lord.  That is it!  The answer, I have been looking to express.  Not only do they point to the Creator but they understand that the lasting source of joy comes from being "in the Lord", who is the giver of life.  As a result, they are reaping God's benefits and provisions within the creation of which they are a vital member.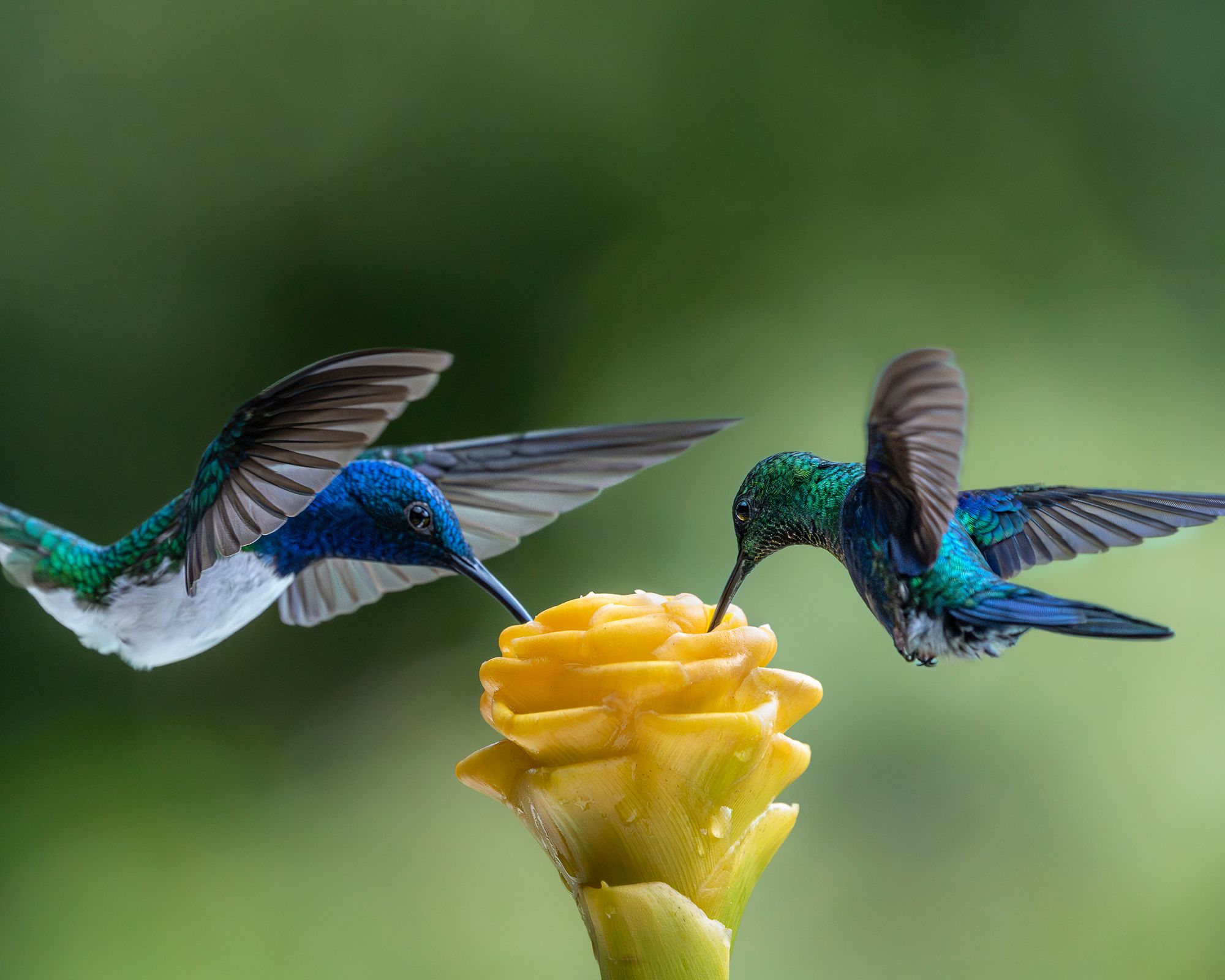 God's joy story is continuously being lived out daily, right in front of us.  Are you ready to travel down the path of infectious joy?  I hope all who read this blog will join me in practicing these examples set before us and draw near to the Giver of life.  As we intentionally find our joy in the Lord, we will apprehend and enjoy random moments throughout our day.  Yes, it is true life will continue to have times of adversity but regardless, even in the midst of these trials, you will be able to find moments of simple pleasures.  As demonstrated by creation, we need to share this joy with others. Remember, that we are never too old or even too young to act playfully for the pure delight in it.  Step out of your comfort zone, try something new, or perhaps look once again for that priceless treasure in the great outdoors.  Dance, sing, laugh, yes, do not forget to laugh.  You too can join in and make a beautiful joyful noise.
In closing, as we encounter joy in our day, I want to encourage you to not be put off by those who refuse to partake in the sweetness of life with you.  There will always be someone [or some bird] who seems too resent the joy of others.  Nonetheless, you can still choose to enjoy all each day has to offer.  As pastor and author Charles Spurgeon said "Time is the seed of eternity."   Yesterday is gone.  Let it go.  Today is a gift, appreciate it.  And tomorrow is the promise of what is yet to be.  Look forward to it.  Take a closer look at this picture; it depicts who we can become.  Choose to enjoy the sweetness of life today along with looking forward to experiencing the lovingkindness of God's tomorrow.
I [Jesus] have told you these things so that you will be filled with My joy. Yes, your joy will overflow! John 15